Oman's best off-the-beaten-track adventures WWW.JOAOLEITAO.COM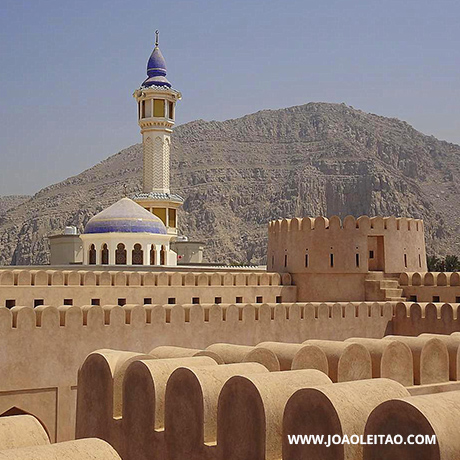 Extremely safe and populated with friendly, hospitable people, Oman is a fascinating and mysterious nation, much easier to visit than one may expect. Its capital, Muscat, exhibits an architecturally rich historic district with its many markets, museums, forts, mosques and seaside areas.
EXPLORING RAS MUSANDAM
Visit the geographically dynamic exclave of Ras Musandam, giving Oman partial control of the strategic Hormuz Strait. Relax along serene beaches in Ras Madrakah, witnessing thousands of coastal crabs while listening to its undulating symphony of waves. Visit Telegraph Island, once home to an active 19th century British London–Karachi telegraph station. Deserted since the 1870s, the sparse site is now an active destination while also an eerie reminder of the British Empire. Though a calm and relaxing destination, it is well worth planning a few days' exploration in Oman as its off-the-beaten-paths are many!
CROSSING THE JEBEL AKHDAR RANGE AND VILLAGES
Oman's Jebel Akhdar Mountain Range shelters Haat village's hidden stone houses and uniquely engineered infrastructure. Next, wonder at 6,000 year-old rock art sites and home to the ancient Bani Riyam tribe, along a stretch of the Al Hajar range rising to a height of 3,000m. From Al Hamra to Ar Rustaq, careful driving will transport you across breathtaking landscapes and through one of your most memorable experiences in Oman! Topping the list of the region's cities, however, is Nizwa. A previous capital of Oman, it was a crucial meeting point strategically located at the crossroads of routes linking much of the country. It flourished as a center for trade, religion, art and Islamic education, resulting in its present-day sites of interest including: a famous Falaj canal system supplying water to an UNESCO World Heritage oasis, a vast market, potteries, a fascinating old town and a castle offering incredibly scenic views over the city.
With its many qualities and diverse features, what does one remember most about Oman? To be received by an Omani family. A unique experience with wonderfully accommodating people, when someone invites you to their home be sure to accept the invitation!
VISIT MASIRAH ISLAND
Now a deserted island along the Indian Ocean coast, Masirah lends its visitors the sense of being in the middle of nowhere, in a place where hardly anyone may be. The island's several deserted beaches harboring many shipwrecks are a beautiful sight to enjoy and photograph, where you can get up-close to abandoned boats while witnessing many turtles' secret ritual of laying their eggs.
EXPLORE FORTRESSES AND OASIS
Undoubtedly Oman's most beautiful castle, Samail stands as a true example of a desert mountain oasis. An excellent model of Oman's military architecture, the massive Jabrin Castle contains rich decoration and impressive views from its defense tower. Surrounded by a scenic oasis, the well-preserved 13th century Bahla Fortress is a UNESCO World Heritage Site. Rich in its history, Al Hazm also contains a large fortress within its old village ruins and even an ancient tomb at its hilltop. While you are in Khasab, don't forget to visit the Traditional Musandam Culture Museum housed within another stunning fortress built by the Portuguese in 1623.