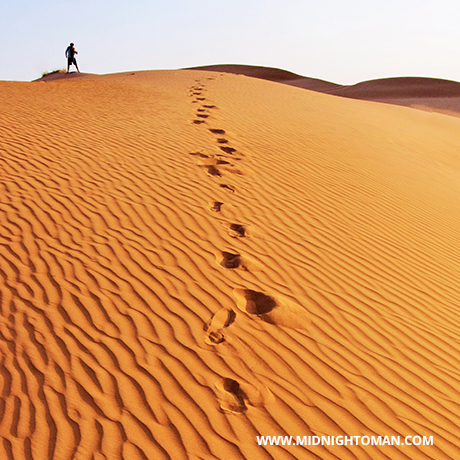 A night in the desert - When admiring the diversity of the Omani landscape, people sometimes forget that Oman is a desert state. In fact, more than 80% of the Omani territory is covered with sand. For anyone who wants to explore the desert, Wahiba Sands would be the optimal choice. Desert camps are run by Bedouins and arrange for an authentic experience and opportunity to indulge in the unique environment. 200 kilometres south-east of Muscat, right past the little village of Al Wasil, the streets end. Cars and roads make way for camels and dirt tracks. In the blink of an eye you find yourself completely surrounded by sand and even though you've just left 'civilisation' it seems like a lifetime ago.
With 60 mph into nonentity. The car keeps losing traction while I try to steer through the sands. Slowing down? Not an option! Even the trip to the camp turns out to be an adventure. It is still 40°C outside as we climb a 60 meter high dune, our feet covered with socks because the sand is unbearably hot. When climbing a dune, taking three steps forward actually means taking two steps back, so it takes us almost an hour to beat the height of the dune. Now there is only sand between us and the looming sun, looking like a blazing ball of fire on the horizon. The warm rays of sun shine right through us and illuminate our core. By now we have long forgotten the stress and worries of everyday life. It is only us and our thoughts. Everything slows down. Even the beat of our hearts. Breathe. If you listen closely, you can hear the quiet wind carrying the sand further along its eternal journey across the desert.
This peaceful stillness comes to an abrupt end when we rise for the decent from the dune. We leap and jump down the dune that we had just so exhaustingly climbed. The rules of gravity no longer apply to us. Kangeroos would go green with envy. After a nice dinner inside the community tent we gather around the bonfire and observe the sky, set ablaze by millions of glistening stars. Every now and then a shooting star burns across the firmament raising smiles all around. The mist of the milky way feels like a comforting blanket while we gaze into the galaxies. Enchanted by the magical atmosphere we crawl under the mosquito net in our tent and dream of camel trains and Fata Morganas.
A camel ride is on top of our list the next morning. Sitting on the backs of these desert ships, we stroll through the morning heat, before a dune bashing with the camp owner leads our way back to camp. 24 hours after our arrival we feel completely settled and at peace while taking in our last breaths of warm desert air on our way back to reality and towards our next adventure in Oman.
Potrebbero interessarti anche