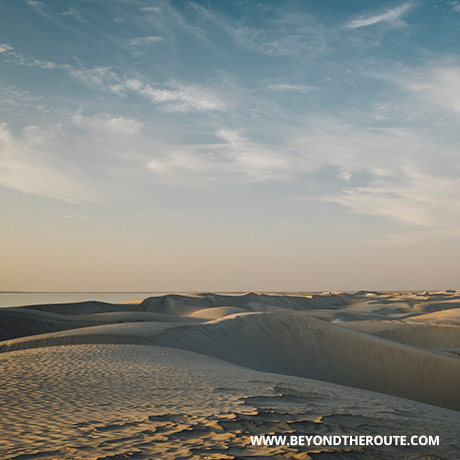 The Sultanate of Oman is full of adventures prime for thrill seekers like rock climbing, via ferrata, scuba diving, off-road driving, kite-surfing, and hiking. However, visitors might be looking to switch off, slow down, and escape the well trodden paths of others. With its empty deserts and wide beaches, Oman has something to offer everybody, especially for those who rather get away.
RUB' AL KHALI
Twentieth century British explorer Wilfred Thesiger described the sands of the Rub' al Khali, or Empty Quarter, as, "gold with silver, orange with cream, brick-red with white, burnt-brown with pink, yellow with grey - they have an infinite variety of shades and colours." Despite its vibrant landscape, the Rub' al Khali remains mostly uninhabited and exceptionally peaceful. The perfect place to unwind from modern life. Here you will discover towering sand dunes as sharp as a fine Japanese knife, jetting out 100 meters tall, or more, from the flat desert floor. Each dunes is like an island in a clam sea, peacefully alone and separate from its neighbors. During the day these giants have no rivalry, but at night it's the heavens and the Greek constellations that steal the show. In the past, Thesiger and his Bedu guides navigated the Empty Quarter using these same stars and the sun while on the back of a camel. Along the way he, "found a freedom unattainable in civilization; a life unhampered by possessions, since everything that was not a necessity was an encumbrance." Today, that feeling of freedom still remains, quietly. To experience for yourself you just need an air-conditioned 4x4 and one of the many off-road tracks, of course.
CENTRAL COAST
Opposite the vast desert of the Rub' al Khali lies Oman's wide central coast; often forgotten by travelers who fancy the cultural sites of the north, and the cool weather of Salalah in the south. This stretch of land is as diverse as the history of Oman. Off these shores lies one of Oman's biggest exports (after oil), fish. Large fleets of dhows and smaller fishing boats catch everything from sardines, tuna, kingfish, squid, and cuttle fish before they are rushed by truck to distribution centers. The main highway clearly scarred from the northbound traffic. Along this blacked fish highway you'll find long empty white sand beaches, pink lagoons, sleepy coves, towering cliffs, migrating birds, and green turtles laying eggs. A perfectly peaceful place to explore, unwind, and have the beach all to yourself. Well, apart from the friendly fisherman waving as he passes by. Oman has something for everybody, whether you like extreme adventure or relaxing in nature. Which do you prefer?
www.beyondtheroute.com